Posted on 2009-07-23
I recently bought an apartment on Lambertseter in Oslo, and have spent my summer vacation and evenings renovating it. The apartment is originally from 1959, and was in pretty bad shape. I spent at least two weeks tearing it down and preparing for painting (several layers of wall paper. Floor. Parts of a kitchen built to withstand nuclear war. Sparkle, etc...). I've gotten some help with the painting and tiles in the hall (Courtesy of my dad. Thanks dad.). Other than that, I've done it all myself (with some help on the floors in the living room and bed room from Kjetil. Thanks.). Oh, and I should probably thank my brother too, who's helped me extensively (Transportation, ground work, kitchen, and various other tasks...)
Not quite done yet, nor have I gathered all my pictures yet, but here are some, with comments, taken on my lovely phone (from 2004?), so they are a bit grainy.
Living room, from the hall.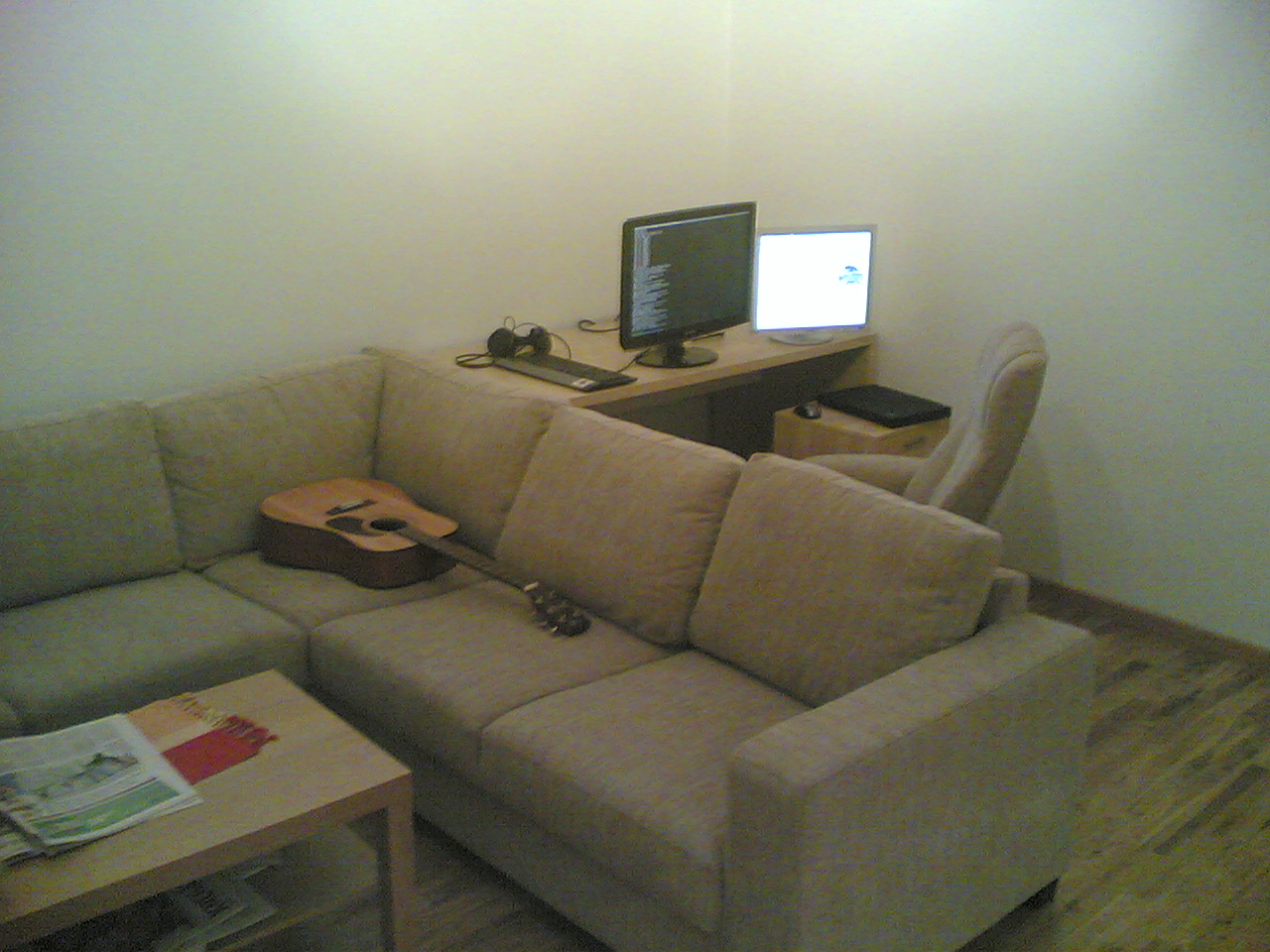 Living room, facing the 'computer section'. Obviously, there'll be more furniture.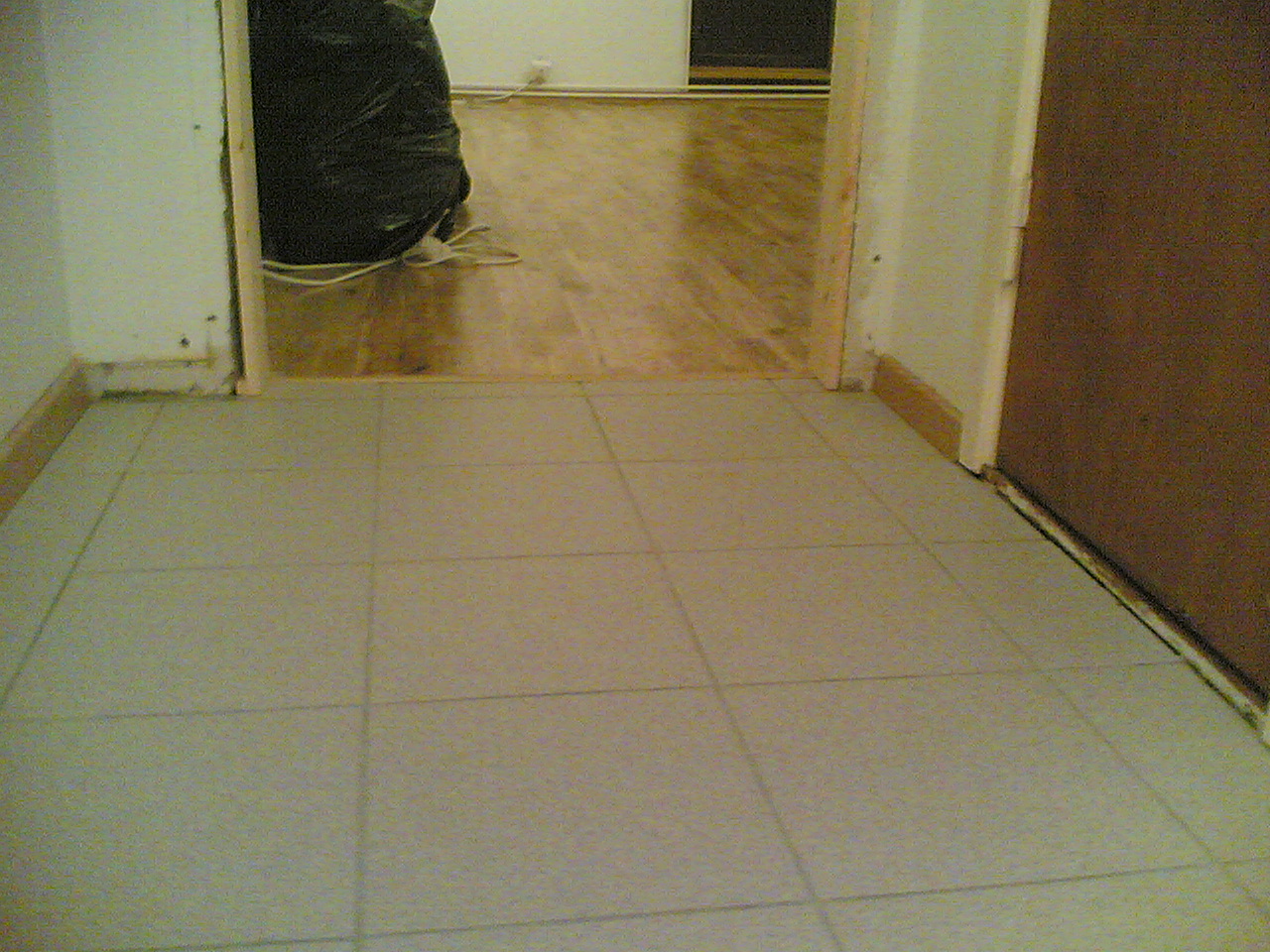 The floors turned out quite well, though there are some details to finish. This is also from the hall, to the living room.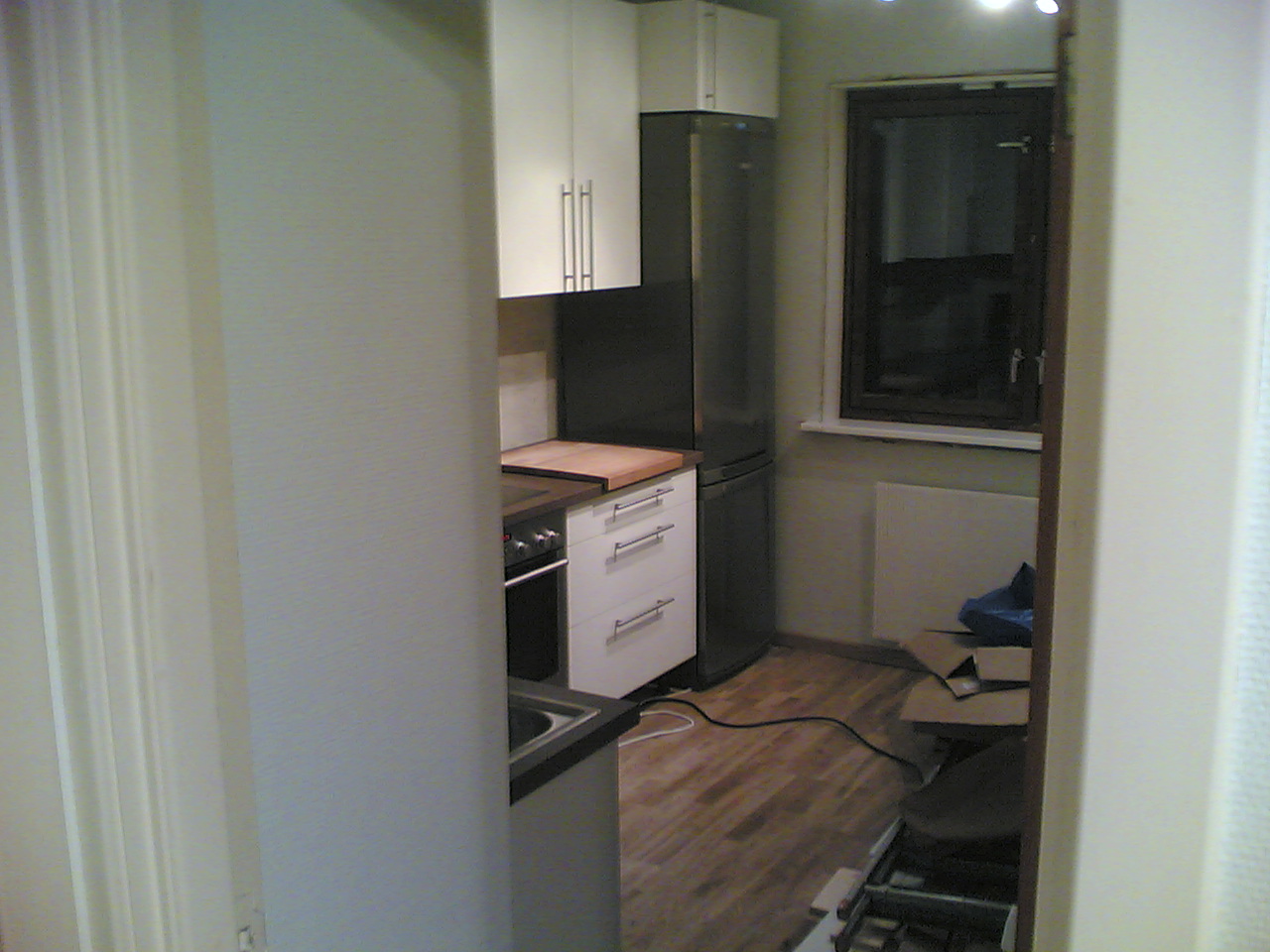 Kitchen, from the hall. Currently used as storage for large equipment/boxes/materials.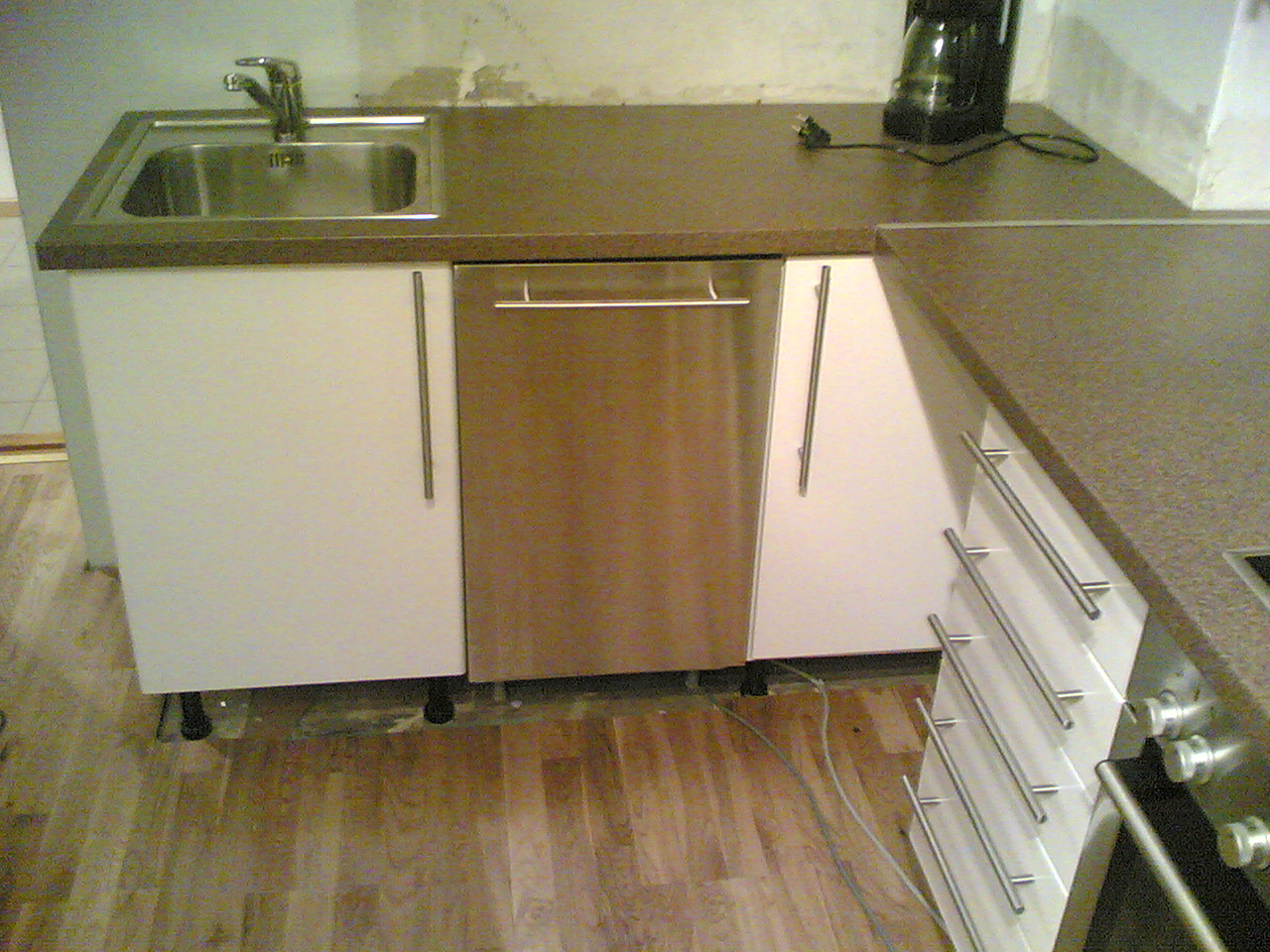 Kitchen again, wohoo... dish washer. It's only 45CM wide, to leave some room near the door (to avoid walking into the bench). Hopefully I can get some tiles done this weekend. No floor here because of the inner most cabinet, which is original. It'll be covered up by the time I'm done with the electrical work.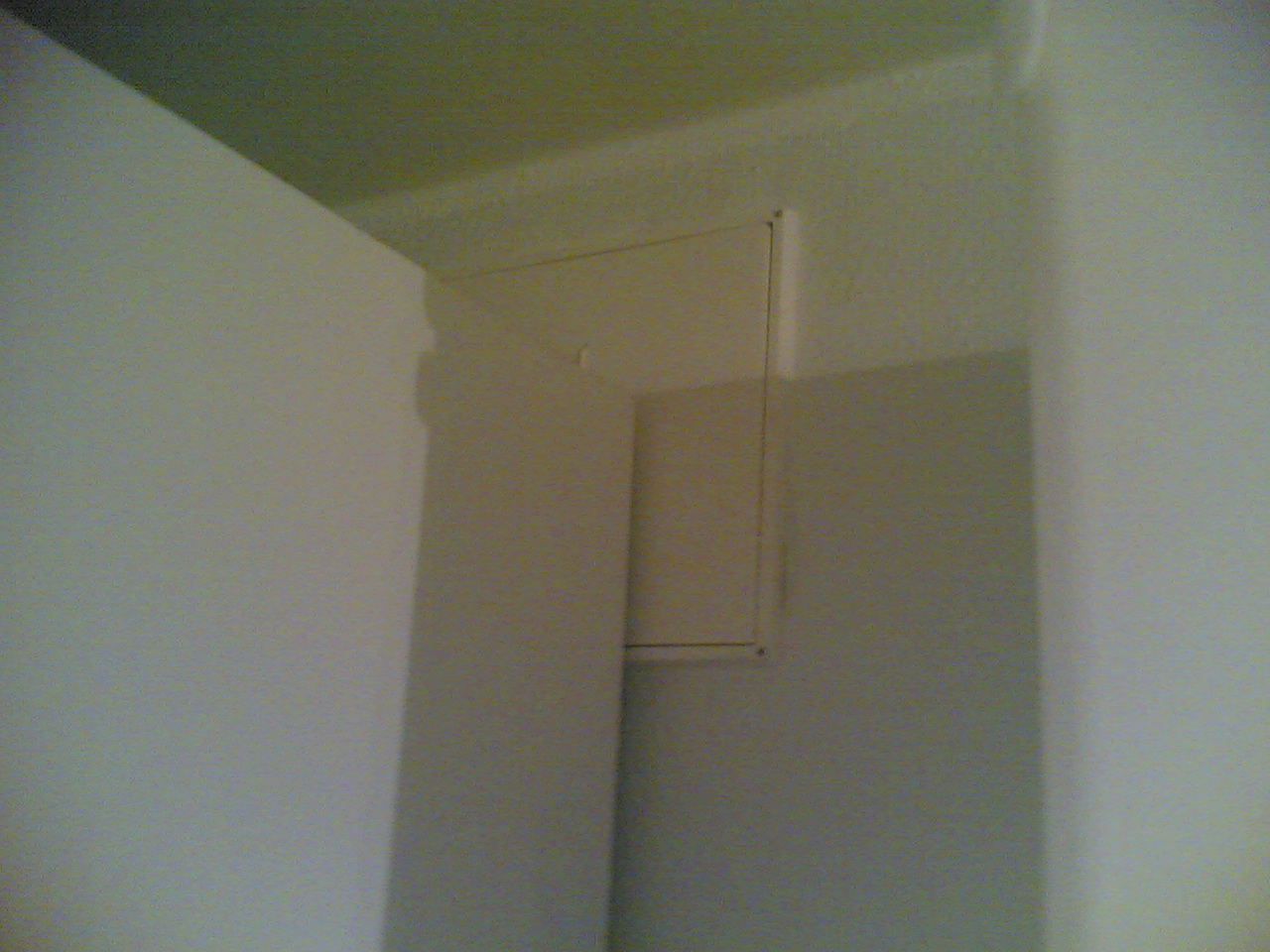 Funny detail in the kitchen :) This hatch is even brand new, I just didn't remember that there would be a closet in front of it when I told the guys who helped me with the paint that they should replace the original instead of sealing it up. Oh well, can't really see it unless you look for it.
What I didn't get a picture of is the 13cm 'corner', the cabinet to the right is aligned along it, but it meant I couldn't use any normal corner solution.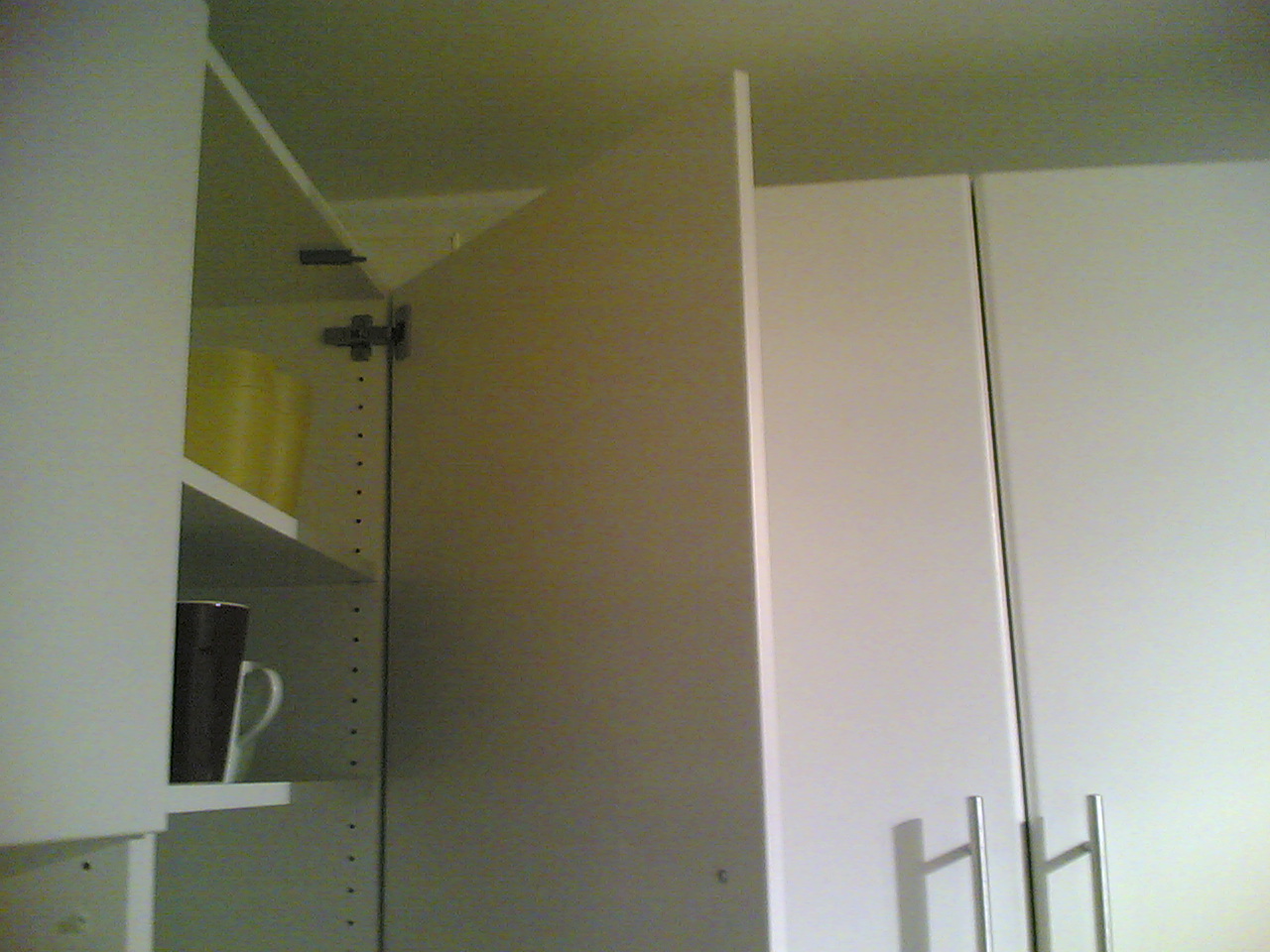 Same as above, but with the door open and zoomed out. Given the 13cm-annoyance, this worked out reasonably well.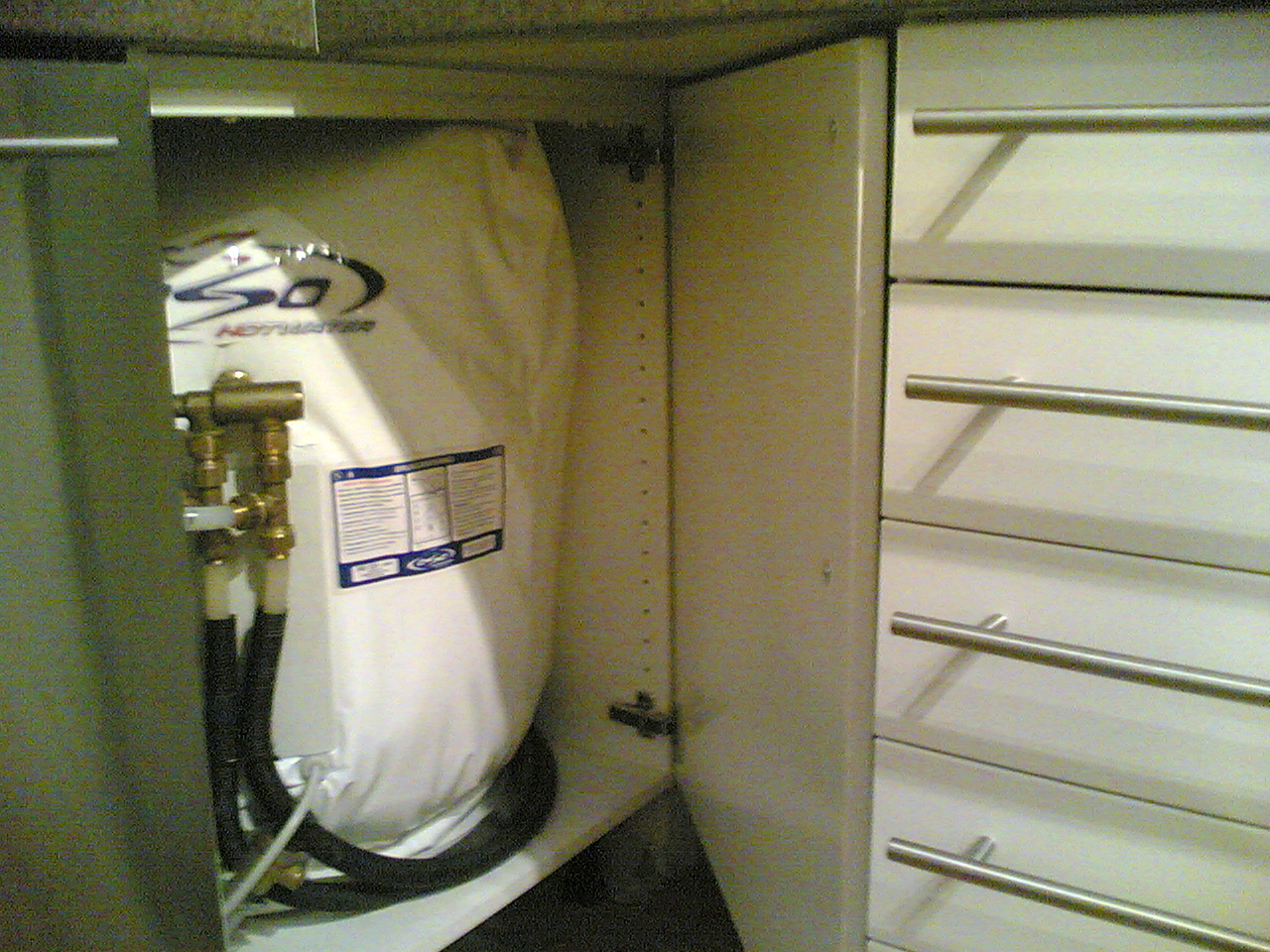 An other detail from the kitchen: This is the only piece left of the original kitchen, though I changed the door. I didn't really fancy moving the water heater. This, combined with the 13cm-corner/wall tha's behind the door made for a little opening, but it doesn't really look all that bad.
So yeah, this is a mess.... It's the walk-in closet right next to the living room... Pretty ingenious, really. In the back, you can see my computer... And on the shelf, the broken raptor (37GB). I like the mixture of glue for the tiles, paint brushes and raptor disks. The shoes are my brothers, he was helping me on a daily basis while his daughter (my niece, lovely kid!) slept on my balcony.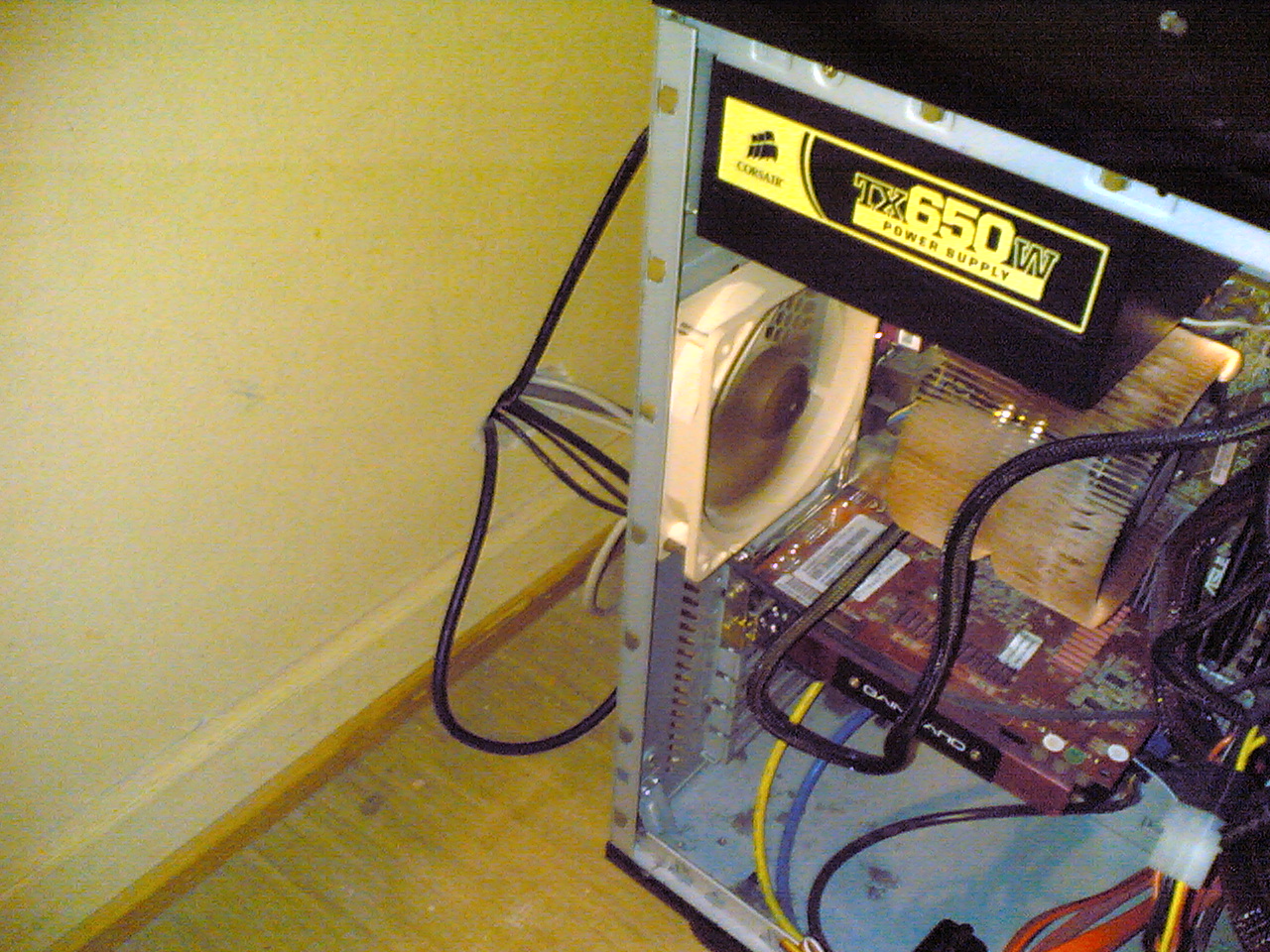 I love this detail :) I have no computer in my living room, but a hole in the brick wall. Which means no noise in the living room at no effort. Pretty neat.
I left out the bed room, which is in reasonably good condition, if it wasn't for the complete lack of anywhere to put my cloths, so it's basically an utter chaos. The bathroom can wait for when my camera deteriorates further and thus doesn't reveal the nasty quite as clearly. Because that's left 'intact'. (The bathroom pictures are actually up, if you look hard enough).
Edit: Added some old pictures
I dug up the original finn.no pictures (since I bought this apartment, I consider this to be fair use, morally acceptable etc. IANAL), which should tell you something about the work involved: